Please register for a webinar, free of charge.


Gebrauchsanleitung des Umsatzsteuer- Berechnungsservices
Share with Friends
October 1, 2020 (Thu) 11:00 AM Europe/Berlin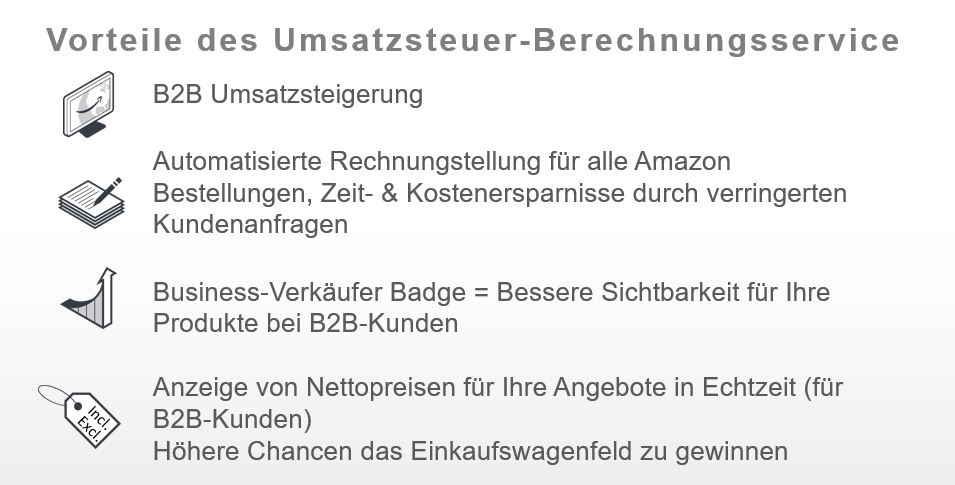 Wir werden die verschiedenen Aspekte des Umsatzsteuer Berechnungsservice erläutern, einschließlich mehrerer Checkpoints, um sicherzustellen dass der Service bei Ihnen korrekt funktioniert.

Agenda:
- Zusammenfassung der Vorteile von Amazon Business und des Umsatzsteuer-Berechnungsservices

- Checkpoints für das optimale Funktionieren des Umsatzsteuer-Berechnungsservices

- Fragen / FAQs

Dieses Webinar richtet sich an alle Händler mit einem professionellen Händlerkonto.
Test your setup now
: Visit
omnovia.com/conftest
to check, if you can connect to the webinar servers, see and hear the content.
Note
: Our webinar presentations are designed to provide you with useful information, and presenters do their best to confirm the accuracy of the content. Please refer to applicable program policies and Amazon's support team for the most up-to-date and accurate information.